Comments And Stories From Our Customers
Each month, we feature a message of the month from Jack's patrons. Send us an email or make a comment on our Facebook page and it could be featured as the message of the month.
"Great choices for some unique hot dogs. Decor is fun. Grandchildren had fun playing games."
"Hands down the best dogs ever! LOVE the vintage atmosphere!"
"Great place! Anytime we are in town, we make sure to stop by. Love the food and love the creative desserts after the meal."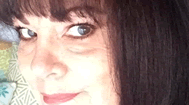 "Great dogs! Great staff! Fun, fun, fun!!! Root beer and soft serve ice cream and make your own sundaes. It was always a must on my list when I visited Charleston. Now that I live here I go all the time."
"Good Food, Great Kool-Aid! It's been an awesome experience for us and a tradition when we are in town! You won't be disappointed!"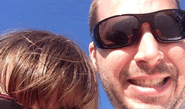 "Always been my favorite hot dog joint since I was brought here in 2008 ! Stopped by today on a whim for the Galactic Dog and Fries. It did not disappoint! Enjoying it on the outside deck, what could have been better? Outstanding!"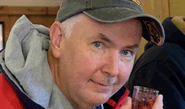 "Jack's is always awesome. We have been going here forever. It is always one of our favorite places to eat. The food is great and the staff is always friendly."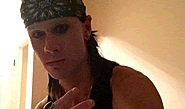 "Awesome little joint with everything you could ask for. Television, cold beer, amazing hot dogs, and nicely decorated atmosphere. Don't forget about the fries bc they're one of a kind at Jacks. Price is honestly unbeatable too. Love this little treasure and will definitely be back!"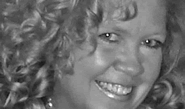 "Atomic Dog & Cosmic Dog were delicious & we loved the fries! The decor was really cool & staff were friendly &
helpful! Thoroughly enjoyed our visit!!!"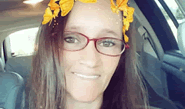 ""My family and I were in town from the mountains
of SC. We always love a good hot dog we ran up
on your place.We truly enjoyed the Southern
hospitality feel and the food was great.We will be
back again. What impressed me most is you all
were packed. Had 3 people running it and it was
smooth as peanut butter. My family and I were in
town from the mountains of SC. We always love a
good hot dog we ran up on your place. We truly
enjoyed the Southern hospitality feel and the food
was great. We will be back again. What impressed
me most is you all were packed. Had 3 people
running it and it was smooth as peanut butter."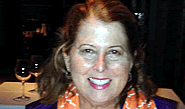 "One of my favorite places. I like the unusual combination of flavors on their Blue Galactic Dog. And the employees make you feel so welcome. It's a happy place to eat good food!"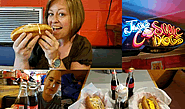 "So this just went down. Jack's Cosmic Dogs, tradition, Caden's fave...crazy hot dogs, root beer floats, and glass cokes. With possible toppings like chili, blue cheese slaw, and sweet potato mustard...it's a far out experience. #HolyCity2016 - at Jacks Cosmic
Dogs."
"Visited Jack's for the first time on my June 2016 IOP vacation with my 2 kids and hubs and let me tell you, we were all blown away!

What a charming little "dive" with amazing food. It makes me feel nostalgic for a time I wasn't alive for. My kids enjoyed getting jello and mini moon pies with their kids meal and I was ecstatic that they had vegetarian options so I could partake in the hot dog happiness!

The service was fast and very friendly and the restaurant was clean. Thank you so much for the wonderful vacation memory and we will look forward to traveling from KY to enjoy a yearly hot dog in beautiful SC!"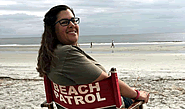 "What a great place to eat. Fun and friendly. I got the veggie dog with sweet potato slaw! Oh my what goodness! Best French fries you will ever eat. Hand cut. Next time you're in Charleston give it a go!"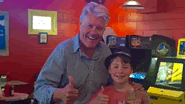 "My son Jack will be celebrating his 11th birthday with his mother by visiting his grandmother (her mother) in Mt. Pleasant. They plan to stop by and get some dogs while there. Is there any way that you could acknowledge his birthday?"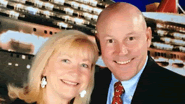 "We love Jack's Cosmic Dogs so much we drive from Goose Creek for your 'Awwwwwesome' Dogs:)"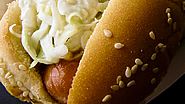 "Just wanted to pass along our compliments. My father and I were in for lunch yesterday on the way to drop him off at the airport, between 10:30 and 11:00. We noticed you talking to your crew, and we both said that must be Jack. My dad has traveled the world and eaten everything from European gourmet dinners to chip beef on toast. I told him I couldn't let him fly home to Seattle without having one of your hot dogs. His review after our meal was: "The only thing wrong with that hot dog is that I only ordered one." I had to agree. I love your place. Safe to say my dad's a fan now too."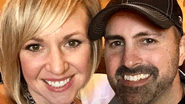 "Rance O'Neal has told me about your hot dogs for years, we finally got to come together this last May! We came, we ate, and we bought the t-shirt! Now we're back in Charleston and can't wait to visit again tomorrow!"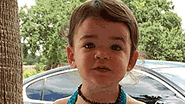 "Came back home for a quick visit recently and had to stop at our favorite! Cosmics, cheese fries, bonzai black bean burgers, and a certain little lady kept stealing all our pickles (that's usually my job)! Our corgis even enjoyed the weather and sat outside with us. We missed David that afternoon, but as always the food was stellar!"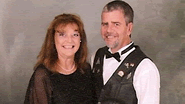 "My husband of 20 years and I traveled 377 miles from Wilmington NC to Mount Pleasant, SC (round trip of course) to meet with Jack of Jack's Cosmic Dogs, much to my surprise when I told the cook my name they knew I was coming. Brian had already emailed and connected with Jack, the young lady that runs the register said happy anniversary how many years have you been married? Next thing I know, our meals were paid for, I had the cosmic blue it was out of this world I never would have thought that my favorite blue cheese could be put in slaw! Not only was the trip worth it but now I will make my own blue slaw. Thank you Jack. We will be back I promise."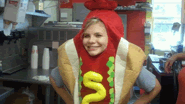 "I found this oldie from my Jacks days. Funny stuff.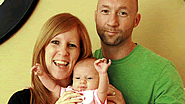 "Never a bad dog, never bad service! Oh, yeah...chocolate malt was right out of my childhood!"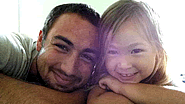 "Ate at jacks yesterday and its always the bomb dot com. Every item on the menu is fantastic! Woohoo!"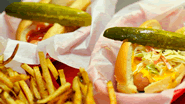 "So looking forward to eating there over my Easter vacation...your food is divine! "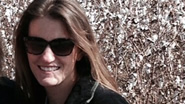 "I recently dined in your shop in Mount Pleasant and wow! I was blown away. The food was absolutely amazing. I live in East Hampton, New York and your shop reminds me of what our town once was! We live in a very populated and tourist type area.
All I could think while eating at Jack's is I want one in our town!!"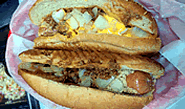 "Any of Jacks dogs are great......I'll take one of
each please.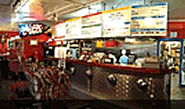 "My first trip to Jack's and it is the bomb!!!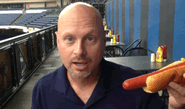 "Loved the dog during my stop while touring baseball parks. FYI, Jack's Cosmic Dogs will be making a brief appearance in my forthcoming book "Gone to the Dogs" as one of the Hot Dog Hot Spots I visited between baseball games. Hope to be back."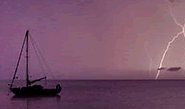 "Even fictional novel characters love Jack's Cosmic Dogs! Jacob O'Leary is a character swirling in a world suddenly filled with great difficulties. As the main character in Stuart K Kimball's debut novel, The Eye of the Storm, he has found himself to not only be in the middle of a centuries old and violent feud between two of Charleston's oldest families, but someone has been murdered, large sums of money are missing, a prominent Charleston business man is also missing, dangerous people are showing up--and Jacob could be a suspect. But the real killers are now circling in on him. But when Jacob gets hungry-he goes to his favorite restaurant-Jack's Cosmic Dogs to get his favorite bite to eat.To find out what happens to Jacob and discover what you may consider ordering on your next visit to Jack's Cosmic Dogs, get yourself a copy of The Eye of the Storm and read it while enjoying your fabulous meal.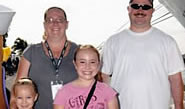 "Stopped here for lunch today while vacationing
with the family, my daughter had your kids earth
dog with cheese, but added our bacon, cheese,
ranch fries to her hot dog. It was delicious!In keeping with your cosmic theme, she named it the "Fry to the Moon" dog!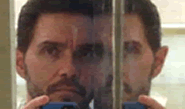 "Sorry NY, but Nathan's and Gray's Papaya can't hold a candle the awesomeness that is Jacks Cosmic Dogs. Just saying."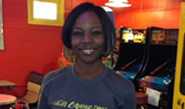 "I'm not sure of the young lady's name who often works as the cashier at the Mount Pleasant location. She is a young, African American woman, and I wanted to say how awesome she is. We live not far from the MTP location, so we go in often and she always has the greatest smile when she helps us. It makes a big difference to go places like Jacks and see people like her who are young and have such an awesome attitude. We'll always be fans of Jacks and the customer service this young lady always offers us is a big reason why. Keep up the good work!"
"Loved it. Kool-Aid and hot dogs = perfect vacation food. Fun vintage atmosphere."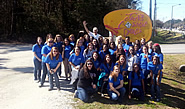 "Thank you again for such amazing service. The students & chaperones all enjoyed the food. It was delicious and fast! Looking forward to a return visit again next year. This has now become a "tradition" for the Aiken County Career Center HOSA group to stop by and enjoy lunch before attending our State Conference. Year # 3 in 2014! Looking forward to year # 4 in 2015."
"My grandson and his family have eaten at Jack's
Cosmic Dogs several times over the years.He had a dream were his Pappoo was eating all the hot dogs, like he always does, because his Pappoo loves Jack's Cosmic Dogs. He woke both his parents up and said, 'don't let Pappoo eat all the dogs!'"
"Four of us from Michigan and PA just had our first Cosmic Dogs near Charleston SC. Wow, Alton Brown was right - fantastic sandwich! Bob said, 'Far out, Man.' Sarah said, 'I wish I had room for 3!' Lou said, 'Very Yummy.' Will said something inappropriate while smiling and chewing."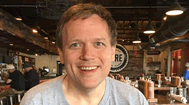 "Totally a chill, hot dog house. Several choices of dogs, sodas and fries done in peanut oil....a couple of video games and shakes & ice cream too."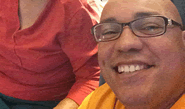 "Awesome dogs at an awesome price. Get the Galactic Dog. You won't be sorry."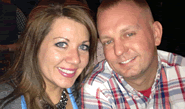 Hey guys. I wanted to let you know how awesome
your food is.

My wife and I visit the Charleston area several times
a year to see our local friends that I met years ago
while stationed here. Our trip is never complete
without a meal at Jack's.

We typically go to the one in James Island. We
went there this morning for breakfast but ended up
ordering hot dogs. They were delicious as always.

Thanks for the great food, extremely nice employees and awesome atmosphere. We will see you guys again the week of July 4th.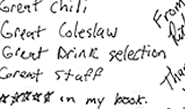 "Ronny was very friendly and made our visit feel like the living room in our house. The food is great and the staff allowed me to make my decision with
ease. - Great Chili - Great Cole Slaw - Great Drink Selection - Great Staff. Five stars in my book. The dog was cooked to perfection! Thank Ya'll"
"I start this off with the following disclaimer; In my normal life in Washington, DC I am mostly-vegetarian health nut. I eat meat rarely, lots of fruits and veggies, and milkshakes? Never. Then we decided to take my mom to Charleston for her birthday, and rented a house in Folly Beach while I stayed on John's Island. On a whim I stopped at Jack's, and as it was vacation had the dog, the fries and the shake. It was delicious. The service was super friendly, and while I was down there for a week? I went to Jack's about 4 times! My favorite? The corn-dogs. I sadly can't eat at Jack's everyday while at home. But if I'm going to cheat on my super healthy diet, then doing so in a place that's friendly, serves great food, and has yummy milkshakes is the only way to go."
"Stopped in for the first time after driving by for so long and the cosmic dog was truly amazing and yes I will go back.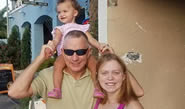 "Been going since I was very little... Best hot dogs and fries!"
"Fun place, wonderful staff, great food! It is a 'must do' in Charleston!"
"Saw it on TV and had to try it!!! Awesome place for hot dogs with all the fixins'!!"
"Jack's has been a go to staple for me and my family since they've opened. Amazing hot dogs in a super fun environment!
"We love taking all our friends and family to Jacks! Great atmosphere, great hot dogs and the best french fries ever!"
"Great dogs,great people...Loved the atomic atmosphere. Video games for the kids (and me). Even had an Astro Blaster available in case of emergency. Good time had by all..."
"I love Jack's Cosmic Dog, unique selection of hot dogs, the vintage decor is interesting and the kids meal is great, juice, moon pie, quarters for games, choice of hot dog or corn dog and very delicious ice cream. When in Mt Pleasant, SC you definitely should go to Jacks."
"Amazing food! Try the sloppy jack yummmmmmm! The manager and staff are all awesome too. This place is my favorite and a definite must try if you haven't been there!"
"I found Jack's about two years ago and have fallen in love! I come here every chance I get and bring whoever I can to come enjoy the experience with me! The food is amazing and always is great! Would recommend to anyone!"
"Love Jack's Cosmic Dogs! Anytime I am in Mt. Pleasant my family and I stop there. We live in Myrtle Beach. We are guilty of driving 2 hours sometimes for a hot dog. LOL"
"What a wonderful day with Mayme, who is 101 and we think she may be the oldest customer coming from Rock Hill, SC. Jack came by to meet Mother, which brought smiles to all. Always a great time and David along with his staff make our visit such a special time. We thank you and bless each of you for your kindness."
"Best hot dogs ever. Every time we come to Charleston we make it to eat here. My wife found Jacks when we were in for our anniversary. Told me that Alton Brown recommended it. Being my favorite celebrity chef we had to go and have been hooked ever since."
"Love this place ! it is a most stop every time I travel through Mount Pleasant,SC. Super friendly staff and the best hot dog you will ever eat."
"Here on vacation from Detroit Michigan and I have to say this was the BEST!! The chili was fantastic along with the hot dogs. I want to try them all now."
"Just got in from Germany yesterday and this is the first place I go today! love the food and the blue cheese coleslaw is Cosmic!"
"Jack this mustard is amazing. We use it under the skin of turkey mixed with fresh sage, rosemary, and thyme and it makes the turkey so moist and the gravy from the pan juice is incredible."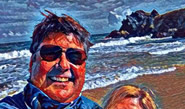 "Interesting place! The more you look around the more you see! Hip atmosphere, creative cuisine."
"We loved it! The food, the environment, even the prices were good."
"My favorite place!!!!! We were late getting to town and afraid we wouldn't get to eat at Jack's! I'm going on a cruise tomorrow, but my meal here bodes well as a highlight of the trip! I assure you.
I might love it too much! I got the Blue Galactic and Cosmic City Dog! I hope I didn't mess up the names. They have a very creative menu!."
"I can't thank you enough. Emil had a perfect 100th thanks to you. Your staff was excellent and David and Jack were so generous. Thank you."
"Jack has very creative hot dogs. They are delicious. His french fries are to die for! We shared two medium baskets. The staff was very friendly and the service was fast. I will definitely return!"
"Such a fun place with the best mustard and blue cheese slaw ever!!!!"
"It's always a fun place. I stop by every time I'm in the area. The hotdog with blue cheese Cole slaw, chili and sweet potato mustard is sensational! Hip atmosphere!"
"Happened to see Jack's Cosmic Dogs while passing through traveling. Did a quick u-turn to go check them out and wasn't disappointed. The decor and atmosphere is great. The service is amazing. Lunch was 'out of this world'! Seriously, though... this kitschy place was really great and is on my list of stops if I travel back this way. 100% recommended!"