The All-American Hot Dog Stand

I have always liked the idea of the hot dog. The all American one handed simple working person's food!

As a kid growing up in the 50's in rural New Jersey, we had a few of these quirky road side joints that sold hot dogs. My dad would load us up in the station wagon and off we go as a family to Hot Dog Johnny's. In town as teenagers, you could hang out on the oversize steps at Leo's with your Nehi orange soda. During the summer, what family barbeque, clam bake, or post parade function did not serve hot dogs!

Fast forward to the late 90's. My wife & I drove by this out of the way, stand alone building on Hwy 17 in Mt Pleasant. We both remarked, this would make a perfect roadside attraction for a hot dog joint. Our boys were in high school, so we had our first workforce with them and their friends.

In the 80's we started five restaurants in the Burlington, VT area. I was always intrigued with the so called look, or theatre of the restaurant. You made your mark with the quality of your food, the personality of the owners & staff and the feel of the environment. This feel was my specialty!

At one restaurant, the Daily Planet we had this rocket hanging over our little dance floor. My partner Kenny called it Ming, the Mercifulness. As kids we were always fascinated with Flash Gordon and the campy view of the future. I kept Ming after we moved to Isle of Palms, so when it came time to name the joint - Jack's Cosmic Dogs, Ming's rocket was in front.

In coming up with Jack's concept, we just focused on what we remembered as kids. Hot dogs, fresh cut fries, soft serve ice cream, draft root beer, vintage longneck sodas. Keep it simple and we did. We threw in some interesting colors of ketchup and mustard with some nostalgic props and BAM! Voted Best Hot Dog in Charleston area since 2000.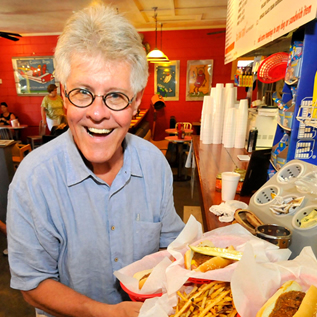 Jack Hurley - The Big Dog
Where are you from?
JH: Hackettstown, New Jersey. Home of M&M's Candies - I used to watch the peanuts dive into the chocolate when I was bored in the summer!

What do you enjoy about the restaurant business?
JH: I like the theater of a restaurant. I think there should be an ambiance, a feel where you know there is an owner's vision behind a place and it is not just a chain. Ambiance and the quality of the food are the two most-important things. I have started 6 restaurants and 5 of them are still in operation after 30 years. With Jack's Cosmic Dogs, unlike a chain where customers eat their food for convenience, people search us out for the experience! I am proud I have created a place like that in this community.

Your restaurants are filled with artwork.
Where do you get the artistic aspect of your personality?
JH: I am a creative person by nature, not an artist, and I am a "Junker". I like to combine unusual objects together. The same way I create the theater in my restaurants, I created in my house, office and backyard.

If you had a week off where would you go?
JH: Anyplace with my Priscilla and I mean anyplace. I could have fun with her anywhere. We like to travel where we know people because it is more fun. Her career with The Bob Pike Group - Training Trainers, requires a lot of travel. So, I try to pick some city she is going to that sounds interesting, somewhere a little bit off the beaten path.

What are some of your future goals?
JH: Spend more time with my sons, play bogey golf, travel more with Priscilla and just find some comfortable shoes!
How did you and Jack meet?
PS: After I graduated from college, I took a job at Snowbird Ski Resort in Utah, running their kindergarten and daycare programs.

Jack was a short order cook, and I knew he liked me, when he would hide the bacon under the pancakes for me in the breakfast line.

We dated for seven years and got married in 1980. We lived in Vermont for 13 years, where are two sons, Morgan and Skylar, were born. We moved here in 1991 and have never regretted it for a single day.


When you first started Jack's, did you think it was a Cosmic idea?
PS: Because we had been in the restaurant trade for many years in Vermont, we both knew it was time to start another concept. Jack grew up going to a small hot dog stand in New Jersey and we often talked about doing the same. We found the building on Route 17 and all the stars were aligned for a new Cosmic adventure.

What are some of your favorite memories about Jack's from over the years?
PS: All of the wonderful kids who have worked for us, including our two sons and many of their friends from high school. One of their best friends met his future wife there when she came in to order hot dogs. Many of our employees continue to return when they are on vacation to visit and tell us how much they loved working at Jack's. Plus, meeting our customers, from regulars to President Bill Clinton.

What do you like to do in your free time?
PS: I am an avid reader and love to putter around the garden. I also enjoy spending time with our sons and helping them with their new houses. I have been practicing yoga for 13 years, and enjoy studying with different teachers.
Are you from the area originally?
AC: I was born in Missouri, but I have lived in Mt. Pleasant pretty much my whole life. I went to Wando High School, and graduated in 2009, and I
am studying music at Charleston Southern University.

When did you start working at Jack's?
AC: I started working there about 7 years ago. My older sister worked at Jack's for the first 9 years it was open. So, I got to work with her for a few years.

What do you enjoy about working at Jack's?
AC: Jack's is like a big family. Jack is a great boss, and I am close with my coworkers, even the ones that go away to college or have left, we all
keep in touch. Plus, I am a people person, and we have fun customers. They want good food, in a cool, funky environment and I really enjoy the back and forth I have with them.

What is your favorite thing to eat at Jack's?
AC: I love our chili, because it is homemade and not too spicy. I love our
chili cheese fries. Eggs are my favorite food. So, I was excited when Jack
added the egg sandwich options. We actually have a lot of Northerners that come in and are excited to see that we have an egg and Taylor Ham sandwich.

What do you like to do when you are not working at Jack's?
AC: I am a big fan of music. I have been singing and playing piano for 13 plus years. I appreciate all music, but when I perform I prefer musical theater and classical music.

I also started doing The Biggest Loser online program. It is for six months, and it started August 8. I am exercising five times a day and am on a strict diet. So far, I have lost 45 pounds!
Are you from the area originally?
TS: I was born in Manila, Arkansas, and moved to Mt. Pleasant when I was 7. I graduated from Wando and I am working on my degree in business management. I have three sisters and two brothers, which I like, because I am one of the oldest. So, when I want something done I can ask one of my younger siblings to do it. Seriously though, it is great to have a big family, especially during the holidays.
When did you start working at Jack's?
TS: I'm going on my 9th year. I have always really liked Jack and Dave, they're fun bosses.

What do you enjoy about working at Jack's?
TS: Every year we participate in the ``Christmas parade. We always do something crazy and have a good time. Plus, the people that I have worked with; we have fun when we work together. It is not like we have to go to work, when you are spending time with friends.
What do you enjoy about Jack's customers?
TS: We have a lot of regulars, and they are all fun in their own way. One of our customers always calls ahead. It takes just 10 minutes for takeout. So, when he hangs up, he say, "I will see you in 10 minutes." He always takes an hour. So, we have learned to not make his order until he shows up.

What is your favorite thing to eat at Jack's?
TS: My favorite is the meatloaf. It is homemade and it is so good. As far as the hot dogs, the Blue Galactic Dog, homemade chili, cheddar cheese, blue cheese cole slaw, and sweet potato mustard, is my favorite. Essentially, because I love the sweet potato mustard. I put it on everything; it is so good with ham and turkey. Most times when people come in they buy it by the case because it is a great present.

What do you like to do when you are not working at Jack's?
TS: I enjoy camping and fishing. My boyfriend and I have a boat, and we go fishing every weekend. I also like to walk the bridge, it is really petty at sunset.
I'm looking forward to finishing my degree and buying a house in the next few years.
Are you from the area originally?
LB: Yes, I was born and raised in Mount Pleasant. I have two older brothers. So, I am the youngest and the only girl. I went to Wando High School, where I took advanced medical care classes, where we learned how to care for patients. I graduated in 2010, and now I attend Virginia College. I will graduate as a medical assistant in January 2014.

What do you want to do with your degree?
LB: I want to be successful. Someone who can work in the same environment and continually excel. I am a cheerful person, I like to interact and help people. I don't like to see people sad. What better place to try to cheer people up than a hospital.

How long have you worked at Jack's?
LB: I have been there for six years

What do you enjoy about working at Jack's?
LB: The people, from the customers, many of whom we have relationships with, to the coworkers; it's like one big family.

What do you enjoy about Jack's customers?
LB: For a lot of the regulars, we know their names and their favorite orders. We talk to them about more than just food, we get to to know them and put smiles on their faces.

What is your favorite meal at Jack's and why?
LB: I love the blue cheese cole slaw. So, I like all of our dogs that have the blue cheese cole slaw.

What are some things that you do for fun?
LB: I like to make jewelry. Also, growing up here, I learned to make sweet grass baskets. So, I like arts and crafts, along with school and Jack's that keeps me pretty busy.
Are you from the area originally?
Noel: I grew up in Atlanta and moved here when I
started high school to live close to the beach.

How long have you worked at Jack's?
Noel: I started working at Jack's about 6 months
ago.

What do you enjoy about working at Jack's?
Noel: I love working at Jack's because of the fun
energy and atmosphere.

What do you enjoy about Jack's customers?
Noel: I love getting to see all the cute little babies that are brought in.

What is your favorite meal at Jack's and why?
Noel: My favorite things to eat a Jack's would either be the Mercury Meatloaf or the chili cheese fries.

What are some things that you do for fun?
Noel: I love drawing and going on the boat during my free time.